Business Valuations: What You Should Know About Them In Order To Serve Your Clients
Date:
Tuesday, March 27, 2012
Location:
Crowne Plaza Northstar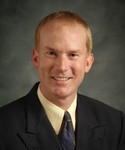 Jason Vavra will share his thoughts on those elements of business valuations which will allow you to more effectively serve your business owner clients in an Estate or Estate Planning context. Topics will include: When a business valuation should be used; Valuation guidelines and standards of value; Understanding the levels of value; How to properly define the valuation assignment; How purpose affects value determinations; Overview of valuation approaches and methods; Valuation discounts; Selecting a qualified appraiser.
Jason provides business owners with Valuation and Ownership Transition Consulting services. He has more than 23 years experience serving businesses and their owners. Mr. Vavra has prepared, managed and reviewed thousands of business valuation reports for both operating and asset holding entities. He has served clients throughout various economic and market conditions. Buckboard provides business valuation services for a wide range of reasons, including; business and ownership succession planning, sales to family members, direct and indirect gifts between family members, dispute resolution among family business owners, Buy-sell agreements, Estate Tax and Estate Settlement matters, among others. Mr. Vavra has held the Accredited Senior Appraiser (ASA) designation in business valuation from the American Society of Appraisers since January 1994.